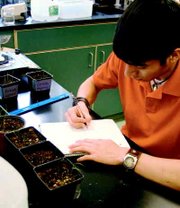 Students at Sunnyside High School, Harrison Middle School and Sierra Vista Middle School are gearing up for this coming weekend's science fair to be held at the Sunnyside High School library.
The projects take much preparation to be successful. Eric Desmarais of Joyce Stark's SHS science class said his project, dealing with radon levels, has taken more than two months of gathering data.
He and his classmates have been busy collecting evidence and data on projects dealing with anti-bubbles, deodorants, coal pollution, pharmaceutical run-off and decomposition of leaf litter...to name a few.
Another of Stark's students, Jake Brandvold, has been introducing different botanical compounds to walking sticks and non-parasitic tapeworms to test the regeneration process. He said he wanted to explore the effect each botanical compound might have on the organisms.
Levi Hagert said he has been studying the causes of decomposition. He said he tested the effects of varying moisture and temperatures on leaf litter, measuring the ph, phosphorous and nitrate levels as the experiments progressed.
Anti-bubbles, bubbles of water surrounded by air and then more water, are the subject of experiments being conducted by Gracen Gonzalez of Stark's classroom.
Gonzalez said he has been working on the effects of salinity on the formation of anti-bubbles.
Kristen Wedam decided she wanted to know if there was truth in advertising of a variety of deodorant products. She said, "You know the ads...'Little black dress approved'...I wanted to see if deodorants fade fabric dyes or stain them. So, my project is two-fold."
She tested a variety of deodorant products on black fabric and measured the effects of the deodorants on the fabric utilizing a spectrophotometer.
Desmarais utilized a beta-gamma radiation detector, an alpha detector and an air-sampling vacuum in three Sunnyside neighborhoods to determine the levels of radon within those neighborhoods. He said he measured barometric pressure, winds and relative humidity to determine whether radon levels were affected by humidity according to the age of a residential development.
Each of the students has devoted time and effort toward well thought out projects, according to Stark.
She said the students have been diligent with their work in anticipation of the regional science fair to be held at the Columbia Center Mall in Kennewick March 13-15.
She stated six projects from Sierra Vista Middle School and 23 projects from Harrison Middle School will be included in this weekend's local science fair.
The judging for the projects will take place Saturday and an awards ceremony will be held Monday, March 3, at 7 p.m. in the SHS auditorium.
Family and community members are invited to attend the science fair to see what the student projects involve. The awards ceremony is also open to the public at no cost.