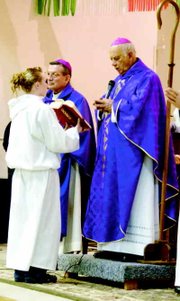 More than 500 people showed up at the gymnasium at St. Joseph's Catholic Church in Sunnyside this past Wednesday night to hear the Most Rev. Alberto Suarez Inda of Michoacan, Mexico celebrate mass.
Inda is the archbishop of the Metropolitan Archdiocese of Morelia, which is the capital of Michoacan, and was on the fifth day of a five-day trip to the U.S.
With a Mexican Mariachi band playing, Inda entered the gym with the Most Rev. Carlos Sevilla, bishop of the Diocese of Yakima, and Father Ricardo Villarreal, a priest at St. Joseph's Catholic Church.
Before Mass Inda spoke with the Daily Sun News about his visit to Washington.
Inda came to the Lower Valley when Sevilla invited him to visit. Many of the parishioners in the Yakima Diocese are from Michoacan. The goal of the trip is to strengthen the ties between the Yakima Diocese and the Morelia Archdiocese.
"I came to get to know their situation and the difficulties they face as they adapt to another culture," Inda said.
He noted his countrymen come to the United States with the idea of getting ahead. Inda said he wants to encourage them in their faith and to adapt to their new culture.
"They're making the effort," said Inda. "I just want to encourage them to continue."
Although Inda is stressing to his countrymen to assimilate into the American culture, he said it is important they don't forget their roots.
During his five-day trip Inda has visited flocks in Sunnyside, Kennewick, Wenatchee, Moses Lake and Yakima. The archbishop has also visited the Yakama Indian Culture Center and a housing unit owned by the Yakima Diocese in Granger.
He said the weather is better in his home state of Michoacan but admitted it is very beautiful here in the Lower Valley.
He came bearing advice for the Catholic faithful here in the Yakima Valley.
"Parents need to take care of unity at home," he said. "Young people must continue their studies, they shouldn't leave school but prepare themselves to have the capacity to integrate into society.
"Be an example of honesty and laborious love."
His most important message, he said, is a simple one.
He advised people to be aware of their dignity, but at the same time be humble.
"Always learn so you can come to respect the culture that welcomes you," he added.
Inda returned to Mexico yesterday morning.
More like this story