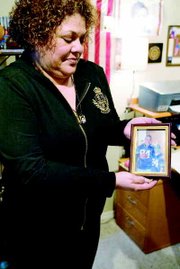 When John and Daria Miller's son, B.J., passed away Oct. 12, 2007, they made a decision to give the gift of life by donating his organs. Now, with the help of LifeCenter Northwest, the Millers will continue to help others by participating in a project to promote organ donation.
LifeCenter Northwest, a federally designated non-profit organization, is putting together a photo gallery at Harborview Medical Center in Seattle, where B.J. gave his life-giving organs.
Kara Preas-Huertas, an organ donation coordinator for LifeCenter Northwest, said the Millers were selected to be a part of this project because she felt the couple would benefit from the experience.
"They had been in contact with LifeCenter about how to help spread the word about organ donation," said Preas-Huertas. "I had been touched by their story."
Hearing that the Millers were interested in participating in the project excited Preas-Huertas. She had been the one who worked with John and Daria when the decision had to be made to donate B.J.'s organs, and had been inspired by the depth of the couples' strength during the loss of B.J.
"It was a great opportunity for me to learn more about B.J.," she added.
The project will create awareness about donating organs and will be viewed by hospital staff, community members, patients and families.
The permanent photography exhibit will involve two donor families and two recipients and will be displayed in a high traffic area within Harborview Medical Center.
"It will be a celebration of the donors and their families," Preas-Huertas said. "The intention is to show that not only does organ donation give recipients a second chance at life, but it can offer some comfort to donor families in the midst of their tragedy.
"I hope it will inspire people to share their wishes to be an organ donor with their families."
The exhibit is scheduled to be ready by April, which is 'Donate Life' month.
John Miller is a registered organ donor and he said he had always talked with his son about it. It was a television show he watched with B.J. that got his son to see the benefits of donating organs.
The show was about people who had donated organs and one man was featured who had touched the lives of 50 people by donating his organs.
It was then Miller said his son made the decision to become an organ donor.
B.J. touched the lives of three women who received his organs.
Did it make bearing the loss of a son any easier?
"I go to bed every night saying a prayer that I can meet these three people," John Miller said. "I think it will help fill a void in my heart. My son is still alive in these three people."
Daria Miller agreed.
"He's made a difference in the lives of two mothers," she said. "They're walking around today because of the decision we made with our son.
"I wish someone could have received his heart, it was his greatest asset."
Preas-Huertas said she feels passionately about the photo gallery project, noting she has seen the benefits to families whose loved ones have donated organs.
"It can have an effect on all those concerned," she said. "It brings something positive to an otherwise tragic situation."
She encourages people to have emblazoned on their driver's licenses the heart that signifies they are an organ donor, and to make sure family members know of their wishes to be an organ donor.
Nearly 100,000 people in the United States are waiting for an organ transplant. Eighteen people die every day while waiting.
To become an organ, eye or tissue donor, log on to www.donatelifetoday.com