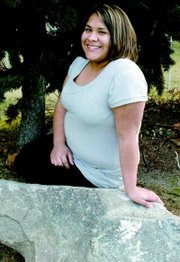 Elisa Martinez describes herself as shy. On the other hand, the 16-year-old sophomore at Sunnyside High School is also interested in her community, which she says is very important.
She remembers one community event during the summer after her seventh grade year where students went around Sunnyside and picked up trash. She wasn't able to participate in that event because of a family vacation but the thought never left her and she's wanted to do something similar ever since.
Now, with the coming Miss Cinco de Mayo Pageant, Castillo is hoping she can scratch two itches at once.
"Being on the court will help motivate me to overcome my shyness and bring up my self-esteem," Martinez said of participating in the April 18 pageant.
The daughter of Juan and Elisa Alvarado said she thinks she should be on the 2008-09 Miss Cinco de Mayo court because of her attitude towards life. Martinez said she is very open-minded and likes to try new things.
"I just like to be different and independent," she added.
Trying out for the court is something Martinez had never dwelled on until this year.
If she is named Miss Cinco de Mayo, Martinez would like to work with young children to fulfill her community service.
"When you teach somebody something it's a special feeling," she said.
She hopes to be able to help out at the Washington State Migrant Council with pre-school aged children, teaching them to read, identify colors and other basics.
At first Martinez wanted to unveil a photography exhibit for her talent in the show but later switched to reading poetry.
"I like poetry," she explained. "It's like soul reading. You get in touch with your inner-self. It's a good way to express yourself."
Martinez will write her own poem for the competition and said it will deal with her family. She said she is very close to her large family, which features her parents and six brothers and sisters.
The largest audience she has ever read poetry for has been her class at school and she admits she is feeling a little nervous, but feels she'll be just fine.
At school she is involved with the Environmental Awareness Club. She and other club members get together to talk and exchange ideas. Every Monday Martinez and other club members go around to all the classrooms at the high school and recycle paper and plastic bottles.
The environment is very important to Martinez, with camping and fishing two of her main hobbies.
Martinez said she would like to study forensic science when she enters college.