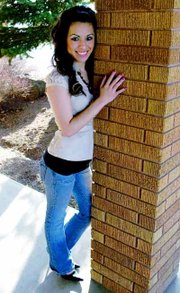 Maria Castillo, a 16-year-old junior at Sunnyside High School, has been in town for less than a year. Last June she moved from Bakersfield, Calif. with her younger brother and sister to live with her older sister.
In that short time span Castillo said she has been told a lot about the Miss Cinco de Mayo Pageant.
"I heard it was a lot of fun," Castillo said of the pageant.
She is looking forward to helping out in the community and getting to know people through the pageant. It's something she's been thinking about for a while.
"I've never been in anything like this before," she said. "There is nothing like this in Bakersfield. This is a very good opportunity for me."
She feels like she has a good chance to earn a spot on the court because she likes to work with other people.
"I like to communicate with and help others," she added. "Especially children that are in need."
If she is named Miss Cinco de Mayo, her community service project will be working with Lower Valley Crisis & Support Services in Sunnyside.
She said she likes working with little kids, hanging out and watching them play.
"Plus," she said, "I've been through what they've been through."
Castillo will perform a folkloric Mexican dance for her talent at the April 18 pageant.
Castillo is a bit of an athlete, having played volleyball at her former school in California. She didn't play any sports this year at Sunnyside High School but plans on joining the volleyball team for the 2008 season.
Other sports she's interested in are swimming and running.
For hobbies, Castillo likes to make scrapbooks. She will take pictures of her friends and find pictures in magazines that relate to them and put them together in a book for memories. She also likes to read.
In school one of her favorite classes is animal science. It is there that she has been learning about monkeys.
"I love monkeys and I want to get one when I get older," she said. "They're funny, furry, cute and they play with you. Plus, they like bananas."
She said she is also big on parrots.
After she finishes school Castillo said she would like to become a police officer.
"I want to start out small, maybe as a security officer," she said. "It looks pretty scary but also fun."
If being a police officer doesn't pan out, Castillo said she would like to become a nurse.