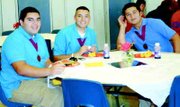 GRANDVIEW - Come March 29 at 7 p.m., one lucky Grandview High School junior or senior male will be selected as Mr. Grandview.
This is the second time in Grandview history that such a program has taken place. The first Mr. Grandview program took place in spring 2006 under the direction of GHS drama coach Melanie Manship.
This year, GHS senior Dalton Walker has decided to take on the 2008 program as part of his senior project, while Manship oversees his work. Also vital to the formation of a 2008 program is Walker's mentor, Cookie Shannon, longtime Grandview Junior Miss chairwoman.
With Shannon's help, Walker is forming the program to follow much the same format as the Junior Miss program, sans the scholastic requirements.
Two years ago, Walker said the program was met with huge success. "Everybody had a blast with it," he said, adding that the only reason they didn't do it last year is because there wasn't an available advisor.
As with the previous program, the proceeds will benefit the drama club. Specifically, the funds will be used to support the spring musical, Seussical. Walker, who is ASB president at the high school, is also president of the drama club.
Manship said that working two years ago with the young men involved in the competition was something she'll never forget. "It was one of the best weeks of my life," she said. "It was just so rewarding."
Contestants will have an interview portion, talent and formal wear portion.
Much to Manship's chagrin, there will not be scholarships for the winners. But, she said, it is an avenue for community service, which carries its own rewards.
"It gets them more involved in the community," she said.
Planning is still in the early stages, but Shannon said it's possible that the Mr. Grandview court will help the Junior Miss Court, possibly by serving as escorts, or even helping with the ladies' program.
It's not too late for Grandview High School junior or senior boys to participate in the program.
"It's going to be really fun," promises Walker. "I want to raise enough money to where it's feasible to actually make money to give to our drama department."
Cost to attend the March 29 event, which will take place at the Grandview Middle School, is $5 for adults and $3 for students and senior citizens.