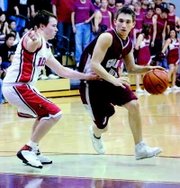 TOPPENISH - The Grandview High School boys basketball team's hope of returning to the State tournament fell short last night (Thursday) in Toppenish, as the East Valley Red Devils edged the Greyhounds 76-66 in a loser-out third round District game.
Grandview ends its 2007-08 season with a 14-9 record.
Grandview never led in the game as the Red Devils got off to a 9-2 start in the first period.
"We settled down and started to move the ball around a little more," Grandview Coach Scott Parrish said. "Then our shots started to fall."
The Greyhounds stormed back and trailed by three points, 22-19, after one quarter.
In the second quarter a slight hiccup allowed East Valley to outscore the 'Hounds 15-9 to take a 37-28 lead at halftime.
Grandview employed a zone defense for most of the night and Parrish said East Valley did a good job of penetrating to the basket and drawing a foul.
"We didn't keep them out of the key," Parrish said. "As a result, they went to the free throw line a lot more than we did."
The Red Devils were given the opportunity for charity points 35 times compared with Grandview reaching the line only 11 times.
East Valley's Kevin Komstadius went to the line 10 of those times. Parrish said he was pleased with how his team defended Komstadius, saying they didn't let him get inside.
"We practiced on that all week," Parrish said.
Komstadius scored his points from the outside, sometimes deep outside, and from the free throw line.
"You have to give him credit," Parrish said of Komstadius and his 23 points.
One Red Devil the 'Hounds couldn't stop from getting inside was Jon Buchanan. He did a good job of penetrating inside on the Greyhounds. Grandview tried though, getting three charging fouls against the East Valley player, but wasn't able to it as consistently as they needed to.
In the second half the Greyhounds climbed to within four points, 59-55, in the third quarter but a Komstadius 3-point shot ended Grandview's run. After that East Valley pretty much matched Grandview point for point.
Grandview's C.J. Lopez led his team with 19 points but Greyhound fans might have gotten a glimpse of the future last night with Joseph Babcock.
Babcock played his best game of the season last night, scoring 16 points and grabbing 10 boards.
"He really stepped up," Parrish said of the 6' 1" junior. "He didn't miss much."
Babcock shot 7-for-9 from the field and was 2-for-2 from the free throw line.
Parrish said he was pleased with his team's play.
"The kids played hard," he said. "We just couldn't quite get it done."
As for next year he said his team will play hard this summer and see what happens.