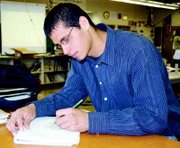 Since sixth grade, Sunnyside High School senior Jesus Mendoza has been creating works of art depicting custom cars.
When Susi Carpino and Holly Ohler, members of the annual Show N' Shine car show committee, announced the need for an artist for the event's promotional material in the art classroom of Sal Martinez, Mendoza was ready to step up.
He said he already had two pieces of artwork in his portfolio to present to the committee.
"I just pulled them out and gave them to Mr. Martinez," said Mendoza.
He said Martinez submitted the two drawings to the Show N' Shine committee and one of the them was selected for the promotional material.
"I have had the desire to design custom cars since I began drawing them in sixth grade," Mendoza recalled.
He said he aspires to design automobiles for a living. However, he said, he will need to go to college first.
Mendoza said he has created a number of automobile designs over the years, with hopes of perhaps working with designers like Chip Foose or having his own business.
"If I worked for a major car manufacturer some day that would be good, too," he said, stating that he just wants to see his designs on the road.
Mendoza said he would not mind working as an architect or building designer, if a career in automobile design doesn't work out.
"I just want to use my art talent," he stated.
So far, Mendoza is already receiving recognition for his design featured on Show N' Shine's promotional material.
He said he has had requests for art designs and more people are looking at his work.
Will he have the opportunity to attend the event?
Unfortunately, Mendoza said he doesn't believe he will because he works in a vineyard with his father when he is not attending school.
"But, I have gone to other car shows to see what the latest custom designs are," he said.
Martinez said it is a rare opportunity for his students to receive the recognition for the talents they possess in the manner Mendoza has been noticed.
The Show N' Shine car show, to benefit the Sunnyside High School senior class graduation party, will be held at Sunnyside High School on Saturday, March 8, beginning at 11 a.m.
The entry free is $10 per vehicle or $5 with student identification. Spectators will be assessed a $1 fee for students with identification and $2 for adults. Children under the age of 5 will be admitted free, and concessions will be available.