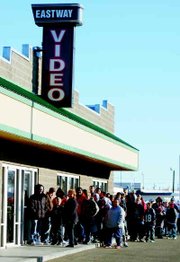 After 24 years of doing business in Sunnyside, Eastway Video went out with a bang.
The store announced its impending closure by advertising a massive sale this past Monday in which anyone who rented a movie or video game could keep it.
"The public's taste for renting DVDs has changed," said store owner Ray Hallett.
Hallett said that with the use of internet downloads, iPhones and people selling bootlegged DVDs, the market has declined. "It just didn't make sense to keep it open any longer...the rental industry is all but dead."
Hallett said that when the store opened 24 years ago, it was back in the day of beta and VHS tapes, as well as many interesting phone calls from people trying to figure out how to master their video players.
Over the course of time, though, Hallett said it became rote, "Like shampoo, lather, rinse, repeat."
Said Hallett, "It's been a good 24 years though...it's just run its life."
Sal Avalos was there this past Monday morning to try to get his hands on X-BOX and Playstation games. Avalos, who was first in line after getting there at 8:30 a.m., said that initially he wanted Wii games for his daughters. After he heard there were no Wii games in the store, he decided to get some for himself.
Avalos was one of three young men who stepped aside to let Carol Carrillo have the first spot in line. "These guys are first class gentlemen," said Carrillo, who was there to get as many movies as she could so she could rest following a recent open heart surgery. "I'm here to get movies to keep me occupied while I'm laid up in bed," she said.
Johnathan Hathoway, who was about fourth in line said of the close-out sale, "I'll have my arms full!"
The rental/sale took place from 11 a.m. to 9 p.m. this past Monday.