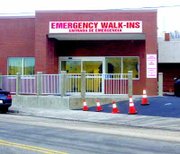 Now that the construction of the Sunnyside Community Hospital Emergency Department is complete, hospital officials are asking that emergency room patients be brought to the hospital via the Tacoma Avenue entrance.
"The Tacoma Avenue entrance was closed during most of the construction and everyone became comfortable entering through the main doors," explained hospital CEO Jon Smiley. "Now we need to reacquaint people with the new emergency department entrance on the south side of the hospital."
Smiley added that the issue is confusing to some people because the ambulance entrance still faces the front of the hospital.
"If you drive yourself to the hospital and need to go to the emergency department, you need to enter on Tacoma Avenue," he said.
Those going to the hospital for other testing or outpatient procedures should continue to use the main entrance to the hospital.
"If you need to unload someone, then move your car, drive up close to the emergency entrance, but please do not use the ambulance entrance near the front door," Smiley said.
&nbsp