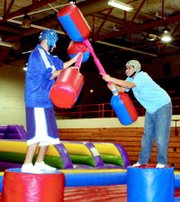 The annual Midnight Live event was held Monday night, New Year's Eve, at Sunnyside High School.
The event was hosted by Sunnyside's Promise and law enforcement agencies throughout the Yakima Valley.
Organizer Lisa Fairbairn of Sunnyside's Promise said more than 150 teens from Zillah to Grandview participated in the fun that came with a message.
The evening included a raffle of prize items, food, bingo and an active scene in the high school gym where inflatable games included an obstacle course and a gladiator ring.
New this year was a simulated impaired driving experience, in which students steered a go-kart that Police Chief Ed Radder operated by remote control. The idea was to give students a sense of what it is like to drive a car while under the influence of drug or alcohol.
Sunnyside High School student Hannah Jean Vlieger said the experience was one of being out of control. "It felt like my car insurance premiums were going to go up," she laughed.
Fun and laughter, but with a purpose was the focus of Midnight Live, which has been held annually for more than a decade, noted Fairbairn. "It's about keeping kids safe on New Year's Eve and helping them make healthy choices."