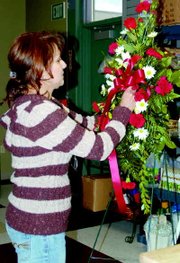 Marti Villanueva and her floral arrangements have become popular with community members familiar with her talents. Now, she has her own business in the Port of Sunnyside's incubator building.
She began working in the floral industry 14 years ago at a local floral shop. When she left that floral shop four years ago, many of her regular clients asked Villanueva to continue designing arrangements for them.
"They asked me to continue making them gift baskets and arrangements," said Villanueva.
Seeing that her clients and the many referrals she received were growing, Villanueva began working out of her home.
She said being successful in her home-based business inspired her to reach for a long dreamed-of business of her own.
"My clients are very loyal and the demand for my work was very encouraging," commented Villanueva.
She said she discovered the need for more space and she wanted to offer a line of gifts and home accents to her clients. "I wanted to better serve my clientele," she stated.
Villanueva said she spoke with Jay Hester of the Port of Sunnyside, and he helped her to find the space needed in the port district's incubator building along East Edison Avenue.
The Port of Sunnyside allowed Villanueva to design her own floor plan and interior.
As a result, Villanueva enlisted her husband John's assistance. His expertise was utilized in paint, floor pattern and storage and counter space. "He built all of the storage and the counters himself," Villanueva stated.
She also has her daughters working to help her with the business. Lindsay helps with the floral designs and chose the name Marti's Floral Carte. She said the idea was to pick a name that was unique and trendy, yet described the services provided by the business.
Villanueva's other daughter, Nicole, is the bookkeeper.
Villanueva offers gifts and home décor for all ages and hopes to expand her business to better serve the needs of her customers.
She said she currently provides deliveries from Prosser to Granger and Mabton, in addition to her local customers in Sunnyside.
With Christmas behind her, she is looking forward to adding the red, white and pink inventory associated with Valentine's Day.
Also planned for the near future is a formal ribbon cutting ceremony and grand opening, even though the small business, located at 440 Barnard Boulevard in suite 3, was first opened Dec. 17, 2007.
"I am just really enjoying this," Villanueva said. "It is a dream come true and I have seen a lot of community members since I first opened."
Of the business, Hester said the cooperative effort between the Port of Sunnyside and Villanueva is approximately a year old. He said the port district's incubator building was in its final phase of construction when the relationship began, and that the Port believes in assisting home-based businesses reach the "market level."
"We provide a low overhead to help the business become viable at the start-up," Hester added, noting that the Port of Sunnyside is proud to support Marti's Flower Carte because the small business owner brings more commerce to the Sunnyside community.