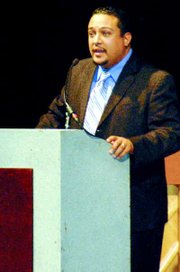 Sunnyside School Board Director Miguel Puente was recently appointed to Gov. Christine Gregoire's Juvenile Justice Advisory Committee.
The goal of the committee is to improve the quality of juvenile justice. It also awards federal funds for delinquency prevention programs.
"We are the decision makers for a statewide grant that works to reduce juvenile delinquency," explained Puente.
Puente said his interest in serving on the board stems from the belief that some of the most important resources in our communities is our youth.
"I consider myself someone who can communicate on behalf of the issues we see in rural Washington," he said, adding that those issues include poverty and lack of education in families.
Puente said he'd like find ways to partner with agencies to better support youth in an effort to reduce or eliminate juvenile delinquency.
Puente said that the grant funds distributed by the committee are awarded on a competitive basis.
Puente's term ends in June 2009.