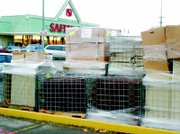 A facelift is in store for downtown Sunnyside in the form of a $1.3 million renovation planned for the Safeway store.
Most of the improvements will be inside the Sixth Street store, with external upgrades to include new paint, according to Assistant Manager Julie Deason.
Among the more noticeable changes will be a Starbucks coffee stand inside the Safeway. The store will feature softer lighting and displays more in the line of a market appearance.
Deason described it as the store's "lifestyle format," complete with specialty tables and tile flooring.
Construction begins this coming Monday and is expected to wrap up by mid-March. The store will remain open for its regular business hours during the project.
Greeters will help shoppers find their way as departments are re-organized and pictures will be displayed showing how the store interior will look when work is completed.
"We're very excited," Deason said about changes afoot at the store.
All departments at the Safeway store will be enhanced, with some new additions. Plans include a sandwich bar, olive bar, home decor, a wine cellar, an organic produce stand and a panini grill.
Gone will be the old cash register stands and shopping carts, replaced by newer versions.
When completed, the new Safeway remodel will change the store entrance so that it is flush with the building. Shoppers will enter directly from the parking lot instead of going around to the existing entrances.
Deason said the upgrade has been in the works for awhile, but workers were hesitant to say anything publicly until it became official.
It's official now.
"You'll see the construction start on Monday," she said.