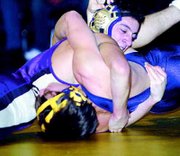 MABTON - Bouncing back from its Dec. 20 league loss to Goldendale, the Mabton High School wrestling team turned things around last against Naches Valley High School.
The Vikings got four pins, two forfeits and a technical fall to beat the Rangers 45-36 and even their league record at 1-1.
Both teams started on even footing as Mabton forfeited the 103-lb. match and Naches then forfeited the 112-lb. match.
The action started in the 119-lb. weight class when Naches Valley's Jesse Fredricksen pinned Carlos Mendez in 1:26 to give the Rangers their second lead of the night.
Mabton came right back as Eric Meza (125 lbs.) pinned the Rangers' Cody Johns in a blistering 45 seconds.
"He got right to it," Mabton Coach John Kilian said of Meza's quick pin.
Naches Valley regained the lead in the 130-lb. match. Tyler Slick pinned Mabton's Andrew Martinez in 56 seconds to give the Rangers an 18-12 edge.
Andy Rivera (135 lbs.) inched Mabton back into the meet with a 9-5 win against Junior Cabrera in a match that featured mostly takedowns and escapes.
Mabton retook the lead when Tony Vargas (140 lbs.) pinned Naches Valley's Tanner Slick in 56 seconds. It was a lead that was short lived when the Vikings had to forfeit the 145-lb. match.
Down 24-21, the Vikings regained the lead for good in the 152-lb. match featuring Mabton's Noe Gutierrez and Naches Valley's Kyle Rosen.
Gutierrez got the win by pinning Rosen in 2:57.
"It was a good match," Kilian recalled. "Noe was down 2-1 after the first round. He really picked up the pace in the second round. Rosen picked to start in the up position and Noe got the reversal and then manhandled him to get the pin."
Mabton's Angelo Salinas (160 lbs.) stretched the Vikings' lead even further when he scored a technical fall over Nate Stoneman, 22-4.
"Angelo was getting takedowns, near falls, whatever he wanted," Kilian said.
Naches Valley had to forfeit the 171-lb. match but the Rangers showed a little life in the 189-lb. and 215-lb. matches.
Noble Stoneman (189 lbs.) pinned Mabton's Kody Bacon in 1:35 and Brian Jones (215 lbs.) pinned Mabton's Jesus Cardenas in 1:05.
Those two pins narrowed Mabton's lead to just 39-36 with just one match left. Lucky for the Vikings, it was the undefeated and 2007 State tourney runner-up Eli Perez who still had to wrestle. He took on Naches Valley's Jacob Stiles.
Stiles came out aggressively and scored a takedown on Perez.
"I told him (Perez) if he scores on you to keep chugging," Kilian explained. "I told Eli he'll tire out and to be patient."
Perez heeded his coach's advice and quickly escaped and then scored a takedown. Perez was up 4-2 on Stiles after the first round. To start the second round Perez scored a few more points, jumping ahead 7-2, before he pinned Stiles in 3:04.
"It was a good meet, there were a lot of pins," said Kilian, noting six of the matches were first round pins. "It didn't last very long but it was exciting."
Mabton (1-1, 3-3) will participate in the Grandview Invite this Saturday, Jan. 5, at 10 a.m.