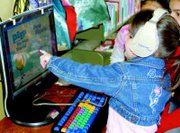 During an open house at the Sunnyside Library last Friday, the newly acquired Early Literacy Station was being used by youngsters from the community.
Librarian Amy Ravenholt said the child-friendly computer was obtained by the library to help pre-schoolers gain computer and literacy skills.
"It isn't connected to the internet like the other computers and it has programs in both English and Spanish that help the pre-schoolers develop early literacy skills in reading, math and logic," said Ravenholt.
She stated that the parents of many young library patrons had inquired about programs to help their children. After the early literacy station had been tested in Wapato, the Yakima Valley Regional Library board agreed to include the system among the resources offered in its various libraries throughout the valley.
Ravenholt said the system has 24 programs currently available. They are designed as cartoons with popular characters from books and television programs, such as Spongebob Squarepants. But, they teach skills like patterning and letter recognition among other literacy and math skills.
"Our other computers have the Magic Schoolbus programs, but it requires more to allow a youngster on them, such as a parent permission/release form," said Ravenholt.
She also noted that the new station's keyboard and mouse are color-coded to help develop computer skills. " The consonants are green and the vowels are purple, allowing ease of learning," she said.
She said learning to use a computer can be more complex than believed and the station takes some of the guess work out of the process, allowing youngsters access to technology in a productive, safe manner.
&nbsp