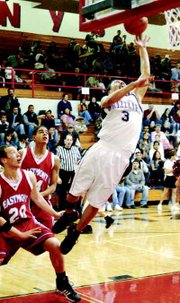 The Sunnyside High School boys basketball team has had problems all year stringing together four solid quarters of play. It was more of the same last Saturday as the Grizzlies fell to the Eastmont Wildcats 53-34.
"We were slow getting out of the chute," Sunnyside Coach Ron Rowe said.
The Wildcats jumped out to a 12-0 lead before Sunnyside was able to score. The Grizzlies then went on a run of 5-1 to trail 13-5 after the first period.
The Wildcats fielded a tall line up, led by 6'3" Kellen Drake, who poured in 17 points on the night and grabbed 12 rebounds.
Eastmont's height only underscored the importance for the Grizzlies to hit the 10 to 15 foot jump shot, something that did not come easy for Sunnyside Saturday night.
The Wildcats added to their lead in the second quarter, outscoring Sunnyside 12-5 for a 25-10 halftime lead.
"Our defense has been real consistent," Rowe said. "Overall we're playing pretty good defense. We need to pick up our scoring. We're getting good looks, we're just not shooting the ball well."
Sunnyside improved its shooting in the second half but could never overcome its slow start. Sunnyside played the Wildcats close in the second half, scoring 13 points in the third and 11 in the fourth to Easmont's 14 points in both quarters.
What really hurt Sunnyside was rebounds. Eastmont out rebounded the Grizzlies 35 to 16.
"We didn't get many second opportunities at the hoop," Rowe said.
Sunnyside was led by Justin Bos with eight points and Gibby Briones with seven points.
"If we can get started early, build up some confidence, it will help us break through with scoring some more points in a game," Rowe added.
Sunnyside (0-2, 0-10) will travel to Richland to take on the Hanford Falcons this Friday, Jan. 11, at 7:30 p.m.
Eastmont 13 12 14 14 -53
Sunnyside 5 5 13 11 --34
FG-Eastmont 21/51, Sunnyside 12/32. 3-PT-Eastmont 1/6 (Yesiki), Sunnyside 3/8 (Montelongo, Bos, Cornelius). FT-Eastmont 10/18, Sunnyside 7/16. RBD-Eastmont 35, Sunnyside 16. TO-Eastmont 10, Sunnyside 11.
Eastmont-B. Parsons 0, T. Gilstrap 14, J. Aguilar 0, K. Drake 17, B. McFarlane 2, M. Roberts 5, A. Martinez 4, T. Yesiki 5, C. Heywood 0, K. Weber 6.
Sunnyside-B. Davila 6, G. Briones 7, J. Montelongo 3, A. Cantu 0, M. Jongsma 0, A. Ramos 0, J. Bos 8, J. Sanchez 0, K. Leija 0, N. Cornelius 5, T. Abbott 1, P. Vargas 4.