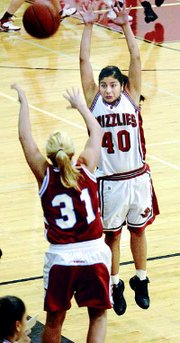 Free throws proved to be the difference in Sunnyside's home loss to Eastmont this past Saturday. That and a girl named Brooke Randall, who scored 27 points for the visiting Wildcats in their 50-41 win over Sunnyside.
"We started off slow but we stuck with them," Sunnyside Coach Eric Berg said. "Our defense kept us in it in the first half. They (Eastmont) didn't pull too far ahead of us."
Sunnyside only trailed 9-5 after the first period. It was Randall that gave the Grizzlies more trouble than anything. She scored 10 points in the first half.
"They were very physical," Berg added. "We had a tough time of matching that in the first half."
Randall was a problem, but so was hitting free throws. The Lady Grizzlies were 9-of-24 from the charity stripe, shooting 47 percent. The Wildcats weren't any better, hitting only 12-of-27 for 44 percent.
Sunnyside's Kayla Rollinger played hard in the second half. She scored 14 of her 18 points after intermission.
"She had a really good game," Berg said.
Sunnyside kept it close in the second half and was only down by five points through most of the fourth quarter.
The Grizzlies started to make their open shots and lay-ups and scored 17 points in the fourth quarter. The problem came at the end of the game when Sunnyside was forced to foul the Wildcats. Eastmont responded by shooting 9-of-16 at the free throw line in the fourth quarter.
"Free throws and the game being so physical were the keys to the game," Berg added.
The loss drops Sunnyside's record to 0-2 in league play and 0-10 overall.
Sunnyside will next travel to Hanford Friday, Jan. 11, for a 5:45 p.m. game.
Eastmont 9 12 12 17 -50
Sunnyside 5 10 9 17 --41
FT-Eastmont 12/27, Sunnyside 9/19.
Eastmont-K. Kolander 0, D. King 0, K. Tuttle 4, J. Hardgrove 11, K. Grode 0, L. Baber 0, C. Wright 1, M. Reid 4, B. Norvai 0, B. Randall 27, M. Miller 0, K. McBride 3, K. Sparling 0.
Sunnyside-S. Wright 2, A. Ramos 1, K. Wutzke 6, S. Zamarron 3, M. Tyler 0, V. Ramos 0, Kelsey Rollinger 0, Z. Perales 5, Kayla Rollinger 18, Y. Garza 6.