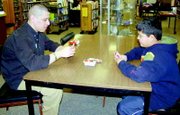 He grew up in the Air Force, was born at Lackland Air Force Base in San Antonio, Texas and is returning to the military life as a security force officer after spending his high school career and a portion of his recent years in Sunnyside.
Eric Cabrera is well-loved among children who visit the Sunnyside Library. He has been working there since April 2007 and will be missed as he ventures back into the world of the military.
Cabrera said he graduated from Sunnyside High School with dreams of becoming a Washington State Patrol officer. He received his Bachelor's degree in criminal justice from Washington State University in 2004, and began pursuing his dream.
"It is a long and lengthy process that wasn't materializing, so I decided to pursue another avenue of law enforcement," said Cabrera.
He had been in the ROTC with the Air Force program while at Washington State University and trained at Lackland Air Force Base during boot camp.
"It's like going home," he stated, noting his history with the base.
He said his father, Pedro, retired from the Air Force as a technical sergeant "...when I was a teenager." That led Cabrera to appreciate service to his country, and further inspired him to seek his career in law enforcement through military service.
"The Air Force was the best fit," Cabrera explained, stating he looked at other branches of the military.
As to his time spent in Sunnyside following college, Cabrera stated he has grown to appreciate the community. "My mom and one of my brothers live here," he said.
He has been known to work at Sunnyside's Safeway and as an inserter at the Daily Sun News. But, the library patrons are the community members who have gotten to see Cabrera "shine."
He spent time playing card games and Mexican bingo with the children who visit the library. "I am already beginning to miss him," said Jonathan Saucedo.
"Yeah! They pay me to play Uno with them," Cabrera stated with a laugh. "I love it here and I wish I could stay longer. But, it is time for me to move on."
Cabrera left for the Air Force yesterday (Sunday) and the library hosted an open house last Friday to honor his service to its patrons and well-wishers.