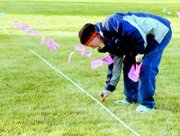 GRANDVIEW - For the fifth year Grandview's Life Options and a variety of volunteers honored the memory of babies whose lives were snuffed out by abortion.
The pregnancy center places 4,000 flags on the lawn of Grandview's Blessed Sacrament Catholic Church each year to represent the average number of babies aborted in the U.S. on a daily basis.
"We do this to promote community awareness," said Life Options Director Jan McDonald.
She said there have also been 200 flags placed on the lawn of Sunnyside's Free Methodist Church, traditionally. That number represents the number of abortions performed hourly.
McDonald also stated that Sunday, Jan. 20, will be Sanctity of Life Sunday, which was first implemented by President George W. Bush in 2002. "We promote awareness through the entire month of January, though," McDonald noted.
This year's flag configuration is designed by B-7 Engineering of Grandview and was designed to spell out "LIFE."
McDonald said the visual is a real eye-opener. "It is one thing to say '4,000'...it is another to SEE '4,000'," she commented.
Life Options serves men and women throughout the Lower Yakima Valley who are facing "surprise" pregnancies.
McDonald said the center recently added men's services because the peer consultants had been experiencing a number of men wanting to help their female counterparts. She said the new program is called Guys for Life and it is designed to help men support the women in their lives. "Not all men are absentee," McDonald said, noting that men play an integral role in a woman's decisions and psychological well-being.
"They can help her make healthy choices," she said.
The sea of pink and blue flags on the lawn of Blessed Sacrament Church is just a reminder of all the lives that could be saved in the U.S. on a daily basis. They could be saved if more people are made aware of how many lives are lost to abortion, according to McDonald.