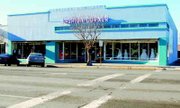 From a small clothing store on the corner of South Sixth Street and East Edison Avenue to a 12,000 square foot store on the corner of South Sixth Street and East Decatur Avenue, Fashion Corner has made its mark in Sunnyside.
The formal wear specialty store celebrates 25 years of business this year. Owner Irene Jochen said she owes her success to her customers...many of whom travel to find the gowns and formal wear of their desires.
"We get customers from as far away as Hermiston because of our selection," said Jochen.
She stated that most formal wear shops are boutiques with a small inventory, which was how her business began. As demand increased for the formal wear her 900 square foot business located in what was once a drug store, Jochen expanded her space. In 1989, she found there still wasn't enough room to serve her customers in what had become a special niche in the market.
What was formerly JC Penneys in downtown Sunnyside became the new home for Fashion Corner as a result.
Jochen was able to expand her inventory, preventing customers throughout the Yakima Valley and the Columbia Basin from traveling to Seattle or Portland for formal wear.
Brides are often surprised at the selections offered in Sunnyside.
"Most ask 'what's in Sunnyside?'," said Jochen, stating that they walk into her store and are astounded at all the choices available to them.
"Everybody wants to be wowed and they want to be able to try on a variety of gowns when they are shopping for a special occasion," Jochen commented, saying that she believes she offers the services and what is often associated with shopping in a larger city.
She also stated that she wouldn't have it any other way. She feels at home in Sunnyside and said the community has been supportive of her business. "I wouldn't want to be in a big city, but I offer what you might find in a big city," she said.
In addition to word-of-mouth popularity, Jochen's business is listed in the pages of major bridal and prom magazines. She offers formal wear from a number of designers and the designers often list locations for buying their wares in such magazines.
"I feel very blessed to experience the growth of my business and I get to become a part of something special," said Jochen, who will mark her 25th anniversary on Oct. 10, 2008.