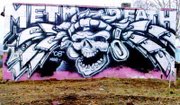 A group billing itself as the Cultural Artz X-Pression project is hoping to turn around the trend of gang graffiti plaguing the Lower Valley and replace it with cultural art.
"We want something more for the valley," said Nancy Palomino, one of the founders of the Cultural Artz X-Pression project. "We believe the kids respect art."
The project was started by Palomino and Mike Cortez, two radio DJs on KDNA in Granger. They host Midnite X-press two nights a week and play music for kids that offer a positive message.
"We're aiming at youth and trying to get them to realize the facts of life instead of living in the clouds," Palomino said.
She said the goal of the Cultural Artz X-Pression project is to give Lower Valley youth an outlet to express themselves in a positive way.
"We believe through education in the many forms of cultural art, we can help detour our participants from any form of negative expression," she added.
The first such project was the repainting of a group of buildings at the intersection of Van Belle and Maple Grove roads.
Palomino said the group started there because that building has been plagued with graffiti in the past.
Palomino and Cortez contacted Mario Campos, a former Sunnyside resident now living in Los Angeles. Campos, a graphic designer, was home in Sunnyside on vacation when he was contacted to see if he would help.
"They are trying to raise awareness through a different medium," Campos said of the group's project. "I thought it would be a good idea."
So on Christmas Eve Campos spent about five hours working on the mural, which sends a message to gang members to stop what they're doing.
Campos said he realizes meth is a problem in the Lower Valley and wanted his message to deal with that. He message was simple...Meth=Death.
Campos said the project received a lot of support.
"People were stopping by and telling us they liked it," he said.
The project was such a success that more are being planned.
The Cultural Artz X-Pression project will also have gatherings soon where peace, unity and positive behavior will be promoted through artistic, multi-cultural expression.
The group believes a solution can be found to the gang problem in the Lower Valley by providing a center where youth can gather and use music as a tool for positive change.