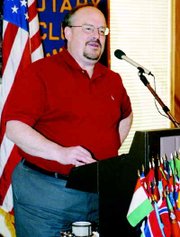 Hiring a city manager, developing a business park, attracting new retailers and finishing the South First Street upgrade are all on the 2008 agenda for the city of Sunnyside.
Members of the Sunnyside Noon Rotary Club heard from Sunnyside Interim City Manager Mark Kunkler on Monday about what the city of Sunnyside is hoping to accomplish in 2008.
The biggest thing the city is facing is finding a permanent city manager. Kunkler said the Sunnyside City Council will start working on the search for a new city manager this month and the process could take between four and five months.
Kunkler also told the Rotarians the city will be using a grant to develop the new West Sunnyside Business Park, formerly known as Monson's feed lot.
"We have received funds from the Yakima County Development Association," Kunkler said. "Our purpose is to hire a planner to give us some ideas on how best to use the property."
The city will also start looking into attracting retailers that were identified in the Buxton Study the city commissioned. The study listed possible retailers that would be a nice fit for Sunnyside. Kunkler said this year the city would like to try to start attracting some of these businesses to Sunnyside.
Kunkler said he sees 2008 as a year of continued growth for Sunnyside.
"Our chief benefit is our location," he added. "We are ideally positioned on the I-82 corridor to capture more tourism and retail development."
Kunkler also believes the developing industrial market looks good for Sunnyside.
He also predicts this year the South First Street expansion will be completed.
"That will be good," he said.
He believes 2008 will see a continuation of Sunnyside's efforts to pursue gang legislation. Together with the Sunnyside School Board, Kunkler said state legislators will be approached about a cutting edge program in Sunnyside that will focus on intervention and prevention.
Noting Sunnyside has captured national attention on the gang issue, Kunkler said he believes this is the year legislators will adopt permanent legislation on the gang issue.
The Sunnyside City Council is also expected to further review establishing voting districts for council positions. Although details have yet to be worked out, Kunkler said the city will likely have four single member districts and three at-large districts.