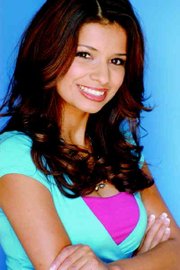 As far back as Kristina Guerrero can remember, she always wanted to be on television. She's been fulfilling her dreams for a while now but the coup de grace came just yesterday (Monday) when she started her first day with the TV magazine Inside Edition.
Guerrero grew up in Sunnyside and graduated from Sunnyside High School in 1998. Although her mother and brother now live in the Tri-Cities, she still has relatives living in Sunnyside.
"I can remember in high school writing a paper about my dream job," Guerrero recalled. "My dream was to be in the hustle and bustle of Hollywood. My dream has come true. It's what I've been working on for my entire life."
After Guerrero graduated in 1998, she attended the University of Washington for two years. Then, realizing L.A. was the place she wanted to be, she uprooted herself and moved to Los Angeles. She was accepted to the University of Southern California and finished her degree in broadcast journalism.
"I knew I would have to have an understanding of broadcast journalism to be successful on television," she explained. "It's a great major and really fun."
After graduation from USC, Guerrero co-hosted a show called The Rub on SiTV. She explains the show as a relationship dating talk show. She also worked for a time with the TV magazine Access Hollywood.
Then Guerrero's big break came in 2005 when she was hired to host a morning show in San Antonio, Texas called Great Day SA.
"It was a blast," she said of working on the morning show. "It was an hour of fun. We did everything from cooking segments to human interest stories to lifestyles."
After three years on the morning show, Guerrero received an offer to replace the west coast correspondent from Inside Edition. She accepted, fulfilled her contract with Great Day SA and then headed back west again.
Now the young girl from Sunnyside who used to dream of being in the middle of the hustle and bustle of Hollywood will get her chance.
"Anything Hollywood I'll be covering," she said.
Her first story on the new job was covering a film festival and putting it together was a bit nerve wracking, she admits. But that's just because she's a perfectionist. She said she doesn't get nervous interviewing stars, noting she's spoke with Jim Carey, Morgan Freeman and Dustin Hoffman.
Her dream interview would be with Barak Obama and she admits that interview could possible make her a little nervous.
Until then, Guerrero will be prowling the red carpets and keeping an eye out for what's happening in Hollywood. And while she's doing this she won't forget where she came from.
"I'm proud to have grown up in Sunnyside and have graduated from Sunnyside High School," she said. "I'm proud to have gotten this far."