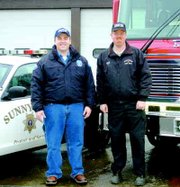 One of the biggest challenges police and fire chaplains face is the perception that they're only associated with bad news. That's not the case, says Lloyd Wicker, chaplain for Sunnyside's police and fire departments.
"Too many people associate chaplains with bad news," said Wicker. "Sometimes it's the stereotype of the grim reaper, particularly with death notification."
Wicker, pastor of the Christian Reformed Church in Sunnyside, has worked as a chaplain here for the past four and a half years through the Yakima Valley Community Chaplaincy, a 501 (3) c non-profit.
Wicker's not alone. Shane Mortenson serves as police chaplain in Sunnyside and Bible Baptist Church Pastor Josh Carter serves as chaplain for the Grandview police and fire departments.
Their jobs are layered. First and foremost, they adhere to the chaplaincy motto of "Serving Those Who Serve." But there's an added benefit for the public too, as the chaplains are often there to comfort families during a crisis as well.
"It's traumatic enough to have to call the fire department because your apartment or house is burning, on top of not knowing what's going on," Wicker said. "(Firefighters) are entering your home with axes, saws, breathing apparatus...people are in shock."
Carter agreed and said, "It's hard to think clearly, know who to call, what happens next." Carter said that chaplains can assist by remaining with the families after the fire or police personnel are gone and offer comfort in the form of calling the appropriate agency, like the Red Cross.
Both Wicker and Carter agree, though, that being present during a crisis doesn't mean they'll launch into a discussion about faith. "You have to be sensitive to the needs of the people, not your own needs," said Carter. Wicker said that he understands a passion to spread the gospel, but it's not appropriate during a crisis. As a chaplain on scene, says Wicker, "I don't come as a Christian Reformed Minister and Josh doesn't come as a Bible Baptist preacher. First and foremost, we are emotional support. If faith is a resource (for the victim), then we can draw on that."
Another challenge chaplains face is absolute uncertainty when heading out to a scene. Both men carry equipment to alert them to a call, like fire, CPR in progress, or a suicide call. "That's the biggest issue. You don't really know what you're walking into," said Carter. Wicker added, "We can't really expect anything. We have to be ready for any kind of response."
Wicker said many agencies aren't aware that chaplains can assist with death notification and he'd like to see the chaplaincy used more for that. "It's important to communicate that kind of information well...I say that because people never forget who it was that came and how they were told. How that's communicated can either be helpful or harmful."
Their work in police and fire departments is far different than visiting the scene of a crisis situation. Carter tries to do police ride-alongs at least once a week and attends as many fire drills as he is able in an effort to get to know officers and firefighters.
This is important, says Grandview Fire Chief Pat Mason. "Our natural human tendency is to not share things with people we don't know. When chaplains get to know members of the department, down the road it's an established, comfortable relationship." That way, he added, if there is a crisis or a difficult situation, officers or firefighters already have a relationship with the chaplain and an established comfort level.
Wicker explained dynamics of crisis scenes for police or firefighters by saying, "Sometimes (tragedy) is going to strike you differently." Wicker, who has worked as a firefighter in the past, said that injured children rattled him even more once he became a father.
There are perks that come with the job of chaplaincy. Number one, there's the camaraderie. Secondly, they've been known to perform a wedding or two.
And, Wicker said, "They are family. You've got your fire family and your police family."
Wicker and Carter said that chaplaincy services are provided free of charge, made possible through Yakima Valley Community Chaplaincy, which is run strictly on donations.
"Generous support from churches, civic groups, businesses and individuals has enabled us to truly serve those who serve us, with absolutely no cost to them."