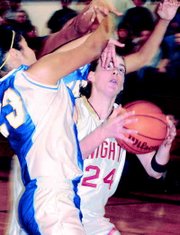 Sunnyside Christian's Melanie Van Wingerden was on fire last night, leading the Lady Knights to a 67-22 win over Yakama Tribal.
"When she gets that look in her eyes, she's pretty hard to stop," said Sunnyside Christian Coach Al Smeenk.
Van Wingerden was 12-for-12 shooting from the field and had a free throw, garnering 25 points for the Lady Knights. She also had five rebounds.
It was a game where everybody played and all but one Lady Knight scored. Andrea Shutt was also in double digits last night with 10 points.
The Lady Knights started the game with a full court press, which Smeenk said they needed to practice. "It created a couple of turnovers, but we made a few mistakes and they (Yakama Tribal) got a couple shots off of that."
The Lady Knights square off at home against Lyle this coming Friday night and travel to Trout Lake/Glenwood on Saturday.
&nbsp