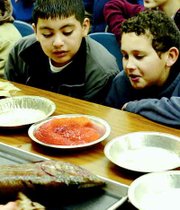 The smell of fish in the air was strong but the fourth graders at Chief Kamiakin Elementary School in Sunnyside didn't seem to mind. They appeared more interested in seeing the insides of a salmon.
Bob and Lynn Tuck of the Yakima Basin Environmental Education program came to the school on Tuesday to dissect salmon for CK's fourth graders.
Bob Tuck said the Salmon in the Classroom project is meant to help students with their natural resources and environmental studies.
"It's a way to open doors," he added.
The day was spent with Lynn Tuck dissecting the fish and her husband then explaining what each part was and how it benefited the salmon.
The first thing the students learned about was slime.
Tuck explained to the students that the slime is on a fish for a reason.
"It's the first line of defense against germs," he told the students. Tuck explained that when a fish gets a cut on its skin, the slime helps keep any nasty germs from entering the body of the salmon.
Slime also helps salmon slip away from predators, such as bears, and helps them slip over rocks to avoid injuries.
The Tucks then explained about each of the salmon's five fins. The students learned that each salmon raised in captivity has its Adipose fin cut off before being released into the wild. This is so farm raised fish can be distinguished between their wild cousins.
Tuck held up a salmon for the fourth graders to see and asked them if they saw a lateral line that divides the salmon's top half of its body from the bottom half. This line is used to detect vibrations in the water and warns the salmon if there is something big nearby, giving them time to escape if there is.
Another interesting fact the students learned is how to tell a male from a female. Tuck told the students a male has a kype, which is when its nose sort of hooks down. The female also has what is known as a kype but it is much smaller than a male's. Oddly enough, the kype only appear once the salmon return to the rivers to spawn.
The students learned many things about salmon in the hour they watched the dissection. Vanessa Rodriguez said she learned that the salmon are able to breathe by using their gills. The gills take oxygen from the water and it enters the salmon's blood stream.
"I learned that salmon can have over 40,000 babies," Zuleima Ruiz said.