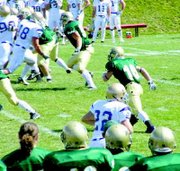 BILLINGS, MONT. - This past football season former Grandview grid standout Kevin Concienne helped the Rocky Mountain College Battlin' Bears battle to their best finish in eight years.
Concienne, who helped Grandview to a fourth place finish at State in 2005 and was on the Battlin' Bears 5-6 team this past season, redshirted his first year at the Montana college in 2006. In 2007, he started 10 of the 11 games the Bears played, including their game with Carroll College, the number one team in NAIA Division II football.
"I felt a little nervous and intimidated," Concienne said of his first start. "There was a lot of hype to this game because it was Carroll College. I was like...Wow. Once we started playing, though, it felt like we were playing in the back yard."
Concienne plays slot receiver for the Battlin' Bears and caught 20 passes during the season for approximately 300 yards. Although he didn't score any touchdowns, he said he came close on a couple of opportunities.
"I made it to the five-yard-line one time but then I got blasted," he recalled.
His best game this past season was against Montana Tech. He caught five passes for 111 yards.
One of the major changes Concienne has noticed since he left Grandview High School and started playing for Rocky Mountain College is the intensity at the college level.
"It's almost like a full-time job," he said of playing college football.
He trains year-round and starts at 6 a.m. during winter conditioning. There is also fall camp, the season, and then spring ball. Concienne will report back early next summer with his team so they can get started preparing for the 2008 fall season.
Another difference from playing football in Grandview is the snow in Montana, something the Bears play in.
"It's different, that's for sure," he admitted. "It's cold for one. It was a fun experience the first time I got to play in it."
Concienne has three seasons left of eligibility and plans on working hard to see what happens.
"I like it here," he said. "Our league is overlooked by some people. We definitely have a lot of competition."
He admits playing college football is a challenge, noting it's nice to have the opportunity to play football again.
"Not too many kids have that chance," he said. "It's kind of a blessing."
His family could be blessed again when the Concienne's younger son, Matt, leaves high school this year.
Concienne said his brother is being recruited by Rocky Mountain College and would like very much to play with his younger brother.
"I hope he comes, he's a helluva athlete," Concienne added.
At Rocky Mountain College, Concienne is majoring in exercise science but hasn't ruled out playing football after college.
"It would be fun but I don't think my height will take me there," the 5' 8" player said of the NFL. "I could see myself playing for the (Tri-Cities) Fever, though."
For now it's too early to tell. Concienne still has three more years to make that decision and see how things play out.