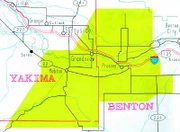 Since early February of 2006, Prosser Memorial Hospital CEO Jim Tavery has been seeking solutions to a funding crisis. The problem began when Medicare auditors determined the Prosser Ambulance Service was overpaid in 2004 and 2005 to the tune of $300,000. Tavery expects the amount to increase another $150,000 for 2006.
"That's about a half-million dollars," Tavery said.
The very core of the problem stems from the fact that in order to receive full Medicare funding, no other ambulance service can be available in a 35-mile radius. This, of course, isn't the case, despite the fact that other ambulances are unwilling to provide service in Prosser Ambulance Service's area.
Tavery is working with legislators to change that with a rural health care bill. But Tavery said he's skeptical such a bill will pass. "We'll try as hard as we can, but it's an uphill battle because of the state of economics and all the other things the country is facing right now."
Tavery has visited area municipalities and asked for shortfall funding, but, so far, to no avail. And during November's election, hospital officials ran a proposition on the ballot that would've helped pay for some of the shortfall. That measure failed.
Now, Tavery is currently focusing on two things: trying to get 2008 shortfall monies from municipalities and working with Yakima and Benton county commissioners to gain support for an ambulance district.
Prosser Ambulance Service's area includes portions of both Yakima and Benton counties, as well as the cities of Prosser, Grandview and Mabton.
In order for an ambulance district to be created, it would have to be formed separately in the two counties, but contiguous to one another. Tavery said the two districts could agree to operate together.
The first steps, Tavery said, would be to have county commissioners and the cities involved voice support of the project. But, Tavery added, "It would need a vote of the people to fund it."
This topic was discussed at a Jan. 7 meeting at the hospital in which Benton County Commissioner Max Benitz and Yakima County Commissioner Rand Elliot attended. Elliot told Tavery he and the Yakima County commissioners would likely be supportive of forming the district. But Benitz said of his commissioners, "It's going to be a tough sell."
At the meeting, Benitz suggested having individual fire districts provide ambulance service, thereby fragmenting services. He also said that the county isn't in the business of governing such an entity.
Tavery countered that the ambulance district could be governed by an independent board. If that were the case, then the independent board could then sign an interlocal agreement with Prosser to provide ambulance service.
When it comes to the short term funding option, Tavery said, "What we're asking is that each of the jurisdictions to carry that burden."
Kadlec Medical Center has agreed to provide the Prosser Ambulance Service with $50,000. Sunnyside Community Hospital and the Prosser hospital have agreed to provide $25,000 and $100,000, respectively.
Tavery said that the ambulance service is asking each jurisdiction for a portion of short term funding based on the number of service calls to each entity. Grandview is being asked to provide $92,500, Prosser is being asked for $85,000, Mabton for $10,000, Benton County for $40,000 and Yakima County for $22,500.
When Tavery was asked if ambulance services would cease if the jurisdictions did not provide 2008 short term funding, he said no.
"But we would have to take a hard, long look at consolidating services," he said. Prosser Ambulance Services has locations in Grandview and Prosser.