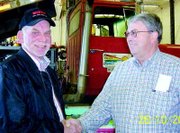 Longtime Sunnyside Valley Irrigation District employee Clair Baker has retired after 26 years of service.
Baker, who retired in October, was a heavy equipment operator. "I basically ran the gradeall," Baker said. When asked what that is, he responded with a laugh, "The most expensive piece of equipment they have. It's an excavator on wheels."
Baker said that 28 years ago he used to work for a company that provided services to SVID. "Back then, SVID didn't have a lot of (its own) equipment," he said. Eventually, he came to know SVID staff really well and, he said, when the previous company sold he was hired on at SVID.
Now, in his retirement, Baker is enjoying his favorite outdoor activities: hunting and fishing. He's also fostering the treasured hobby of building remote controlled model airplanes.
"That takes up some time, too," Baker said.
Baker said that when his wife Carol retires this coming August, he expects they'll add traveling on their Harley to their list of favorite activities.
Of working at SVID for so long, Baker said, "It was a great place to work, a great bunch of guys. I loved working there, it made it really easy to get up and go to work in the morning. But, you turn 65 and you retire."