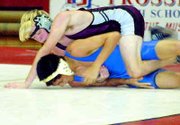 PROSSER - The Grandview High School wrestling team squared its CWAC South record at 3-3 last night (Thursday), with its 45-31 win over Prosser.
According to Grandview Coach Jeff Sevigny, both teams were shorthanded a few varsity members. He said, "Some very young wrestlers for both teams got a chance to see some varsity action."
Grandview fell behind in the first of the weight divisions with Sergio Tinta (112) and Omar Verduzco (119) losing their bouts. Tinta was pinned by Prosser's Kevin Dimas in 1:43. Verduzco was defeated 9-0 by Mustang Ethan Groom.
However, the 'Hounds quickly recovered beginning in the 125-lb. weight division. In that bout, Grandview's Spencer Blanshan pinned Elizar Munoz in 54 seconds.
Blanshan's victory was quickly followed by teammate Viano Perez's pin of Allan Isaacson of Prosser in the 130-lb. division. Perez earned the pin in 47 seconds.
Garrett Walker (135) of Grandview earned an 8-3 decision over Prosser's Marvin Sandoval, giving the lead to Grandview "...for good," according to Sevigny.
Three more Greyhounds earned wins by pin. Greg Gonzalez (160) pinned Taylor Ledgerwood in 1:42, Keagan Christensen (189) won by pin in 15 seconds in his bout with Prosser's Justin Hymus, and Mustang Drew Renollet was defeated by Adam Morales (215) in 43 seconds.
Greyhound Dalton Walker (145) lost to Prosser's David Huizar by an 8-3 decision.
Jose Garza (171) and Edward Acosta (285) of Grandview were both defeated by pin.
The Grandview grapplers won't return to the mats until next Thursday, Jan. 17, when they host undefeated Ellensburg.