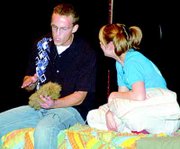 Sunnyside High School leadership class members are gearing up for the annual Lower Valley Hospice Talent Show, set for Friday, Feb. 8.
The leadership class has been sponsoring the annual talent show to benefit Lower Valley Hospice and Palliative Care since 1999. "It is a way to bridge the gap between students and community members," said class member Cassie Herndon.
She said the leadership class seeks avenues in which it can support services and the Sunnyside community. Hospice services are an invaluable asset to the community, according to both Herndon and classmate Jamie Zijlstra. The pair stated that because of the need for hospice and palliative care in the community, the leadership class believes in helping Lower Valley Hospice and Palliative Care.
Last year's talent show was sold out, Herndon stated, saying that it is anticipated to be a sold out crowd again this year.
At the talent show, audience members become a part of the excitement with a raffle of prizes donated by area businesses. "It makes it more fun," stated Herndon.
She said students are invited to attend tryouts for the show on Monday, Jan. 28, at 6:30 p.m. in the Sunnyside High School auditorium. Students 18-years-old and under from throughout the school district are eligible to audition. The entry fee to audition is $10.
Awards will be given to the top three performers at the talent show, which will be held at the auditorium beginning at 7 p.m. Feb. 8.
"First place will be $100, second place will be $50 and third place will be $25," said Herndon.
"But," she noted, "the event is really a show to support hospice."
Admission at the door the night of the show is $5 per person. All proceeds benefit Lower Valley Hospice and Palliative Care.
More like this story