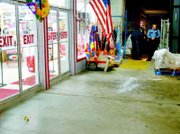 A 14-year-old boy was shot last night (Thursday) in the 1700 block of East Edison Avenue, near the Sunnyside Ace Hardware store and acorss the street from the local high school.
The victim was walking across the parking lot of the Eastway shopping center just after 6 p.m. with another male when he was shot. The suspect got out of a brown Dodge Dakota pickup and fired several shots at the victim, hitting him once in the torso with a large caliber bullet. The suspect then got back into the vehicle and left the scene in an unknown direction of travel.
The victim was transported to the Sunnyside Community Hospital emergency room by the Sunnyside Fire Department and is in ICU in serious condition, according to a police report.
Ed Dean, manager of Ace Hardware in Sunnyside, said when the shooting started both males tried to escape the bullets by running into the store. In the process, a glass door was damaged. Lights above the doors were also broken but Dean is unsure as to how that happened.
Ace employees called 911 for the victim, who was standing and alert when help arrived.
"It was very unnerving," said Dean.
Police have no further information on the suspect vehicle or the suspect, and the firearm has not been recovered.
According to the report issued by Sunnyside police, the victim is a known gang member, but police do not know if this incident is gang related.
Police did recover evidence from the crime scene but are not disclosing what that is at this time due to the pending investigation.
Anyone with information is encouraged to contact the Sunnyside Police Department at 509-836-6211.