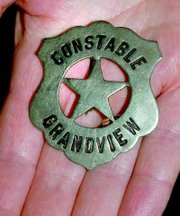 GRANDVIEW - When Grandview Police Chief Dave Charvet and Assistant Police Chief Mark Ware walked into a Yakima gun shop to drop off a rifle for repairs, the last thing they expected was to stumble on an important piece of Grandview law enforcement history.
Store owner Don Manning pointed out a picture hanging on the wall. It was that of a constable badge that reads Constable Grandview.
Charvet quickly asked if he could take pictures. "He said, 'I can do better than that. I can tell you whose got it. I do,'" recalled Charvet.
"He gave us a bit of history about it," Charvet said. "His wife's grandmother was married to the man who wore it."
That man's name was Ed Dawson and that was all Charvet needed to delve into Grandview's archives and learn more.
"The badge used to be worn on his shirt as he walked the dirt streets of this town," said Charvet.
Dawson was Grandview's constable in 1905, three years before Grandview became a city. He worked that position until the 1920's, then Dawson became the city's police judge.
Manning's shop closed a short while later. Had Charvet and Ware not taken the rifle in for repairs, they never would've known about the badge. "We were in the right place at the right time," said Charvet.
Manning donated the badge and Charvet hired Dykstra House owner and picture framer Linda Hartshorn to create a display that features old court records from Dawson's days as police judge, one of which cites a man for being drunk and disorderly and "using profane language in public."
The Grandview police station also features a collage of old police badges and patches that Charvet has collected over time. Before getting his hands on the constable badge, the oldest in the collection was that of Grandview Marshall Earl Bugg, circa 1920.
When asked if he's a local history buff, Charvet responded with a smile, "I like this stuff."