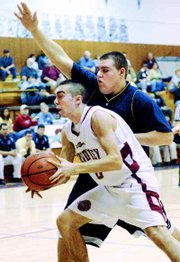 The Grandview High School boys basketball team stayed at .500 in league play, losing to the Prosser Mustangs last Friday night but then beating the Wapato Wolves on Saturday.
In Prosser, the Greyhounds had a terrible first quarter that proved too much to overcome as the Mustangs won 66-50.
"We didn't do a good job of finishing," Grandview Coach Scott Parrish said of his team's first quarter performance. "We missed some pretty easy shots and Prosser put some pressure on us and got out to an early lead."
Prosser's Cody Bruns and Kellen Crawford, who combined for 37 points in Friday's game, led the Mustangs to a 20-8 first quarter lead.
"We were never able to recover from that," Parrish said.
In the second quarter the Greyhounds mounted a comeback. Grandview was able to get as close as 28-22 before Prosser reeled off six straight points to go into halftime up 34-22.
In the second half Prosser outscored Grandview point for point, outscoring the Greyhounds by four points.
Rebounds were an issue in the game. The Mustangs grabbed 52 boards while Grandview had 29.
"Prosser has got some big, strong kids," Parrish said. "They used their strength on us.
"We gave up 20 offensive rebounds," he added. "That's way too many."
Marty Guillen led the Greyhounds with 12 points.
Grandview got back on the winning track on Saturday when the 'Hounds beat Wapato 82-68.
The Greyhounds jumped to a 19-12 first quarter lead before Wapato clawed its way back into it. The Wolves claimed the lead late in the second period before Grandview was able to wrench it back, taking a 35-33 lead into halftime.
In the second half, Wapato again took the lead.
"We regrouped towards the end of the third," Parrish said. "We started moving the ball and got some good looks. We were able to pull away."
Up by six points to start the fourth quarter, Grandview outscored Wapato 22-14 in the final stanza to come away with the win.
Willie Blodgett led the Wolves with 17 points and Rogie Fajardo led Grandview with 21 points. Nick Sears added 16 points for the Greyhounds.
"Nick did really well," Parrish said. "He's starting to get into shape and playing more minutes."
C.J. Lopez, who didn't have any points at halftime, finished with 15 for the Greyhounds by the end of the game.
"We were worried about Willie (Blodgett)," Parrish said. "He's an incredible player. We had Rogie (Fajardo) on him and he was able to keep him to just three points in the first half.
"I was real pleased. The kids played well. Overall, I was real happy with their effort."
Grandview will travel to Ephrata Thursday, Jan. 17, for a 7:30 p.m. game.