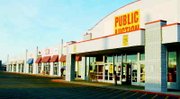 Seattle-based Del's Feed and Farm Supply is expanding to Sunnyside, with plans to open a store in the former Kmart building at 2600 Yakima Valley Highway.
The Sunnyside store, scheduled for a soft opening in February, will also include a 30,000 square-foot feed barn. "Hay and livestock feed are some of our big categories," said Eric Jackson, creative manager for Del's.
Jackson said the store will carry products for large farms, smaller "hobby" farms of five to 20 acres, as well as the home.
The store will have sections devoted to areas such as pets and pet supplies, a tack shop for horses and clothing and home supplies.
Del's will carry clothing lines from Carhart, Columbia Outerwear and Levi's.
The store's selection of pets will include dogs, cats and guinea pigs.
"They'll be stores within the store," Jackson said.
Seasonal items will also be offered for holidays and other special occasions, like Mother's Day.
Jackson said the Sunnyside store is part of a move eastward for Del's, which has 22 of its 25 stores located in Washington.
"We're starting to move more toward Oregon and Idaho," said Jackson. "We ran the demographic models and Sunnyside was a good fit."
Besides Sunnyside, Del's other eastern Washington stores are in Othello, Cheney and Ephrata.
Jackson said the plan is to open 15 new Del's stores in 2008, all progressively heading east to meet up with parent company Tractor Supply Company, headquartered in Tennessee, which has 700 stores nationwide, primarily in the eastern U.S.
"It allows us to grow faster and have access to more growth capital to work back towards the east," Jackson said of Tractor Supply Company's infusion of cash into Del's expansion.
At the same time, Jackson added, Del's gives Tractor Supply access to the west coast market.
Once the Sunnyside store is up and running, Jackson figures six to 10 new employees will be hired. "We try to have minimal turnover," he said of Del's employees. "We try to keep them as happy as we can."