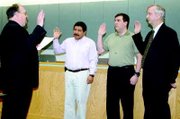 GRANDVIEW - James Howard and Charlie Kriewall of the Grandview School District technology department explained the need for technology upgrades to school board members Monday night.
They stated that the district is eligible for E-Rate grants, which are grants implemented by former U.S. President Bill Clinton to allow computers in classrooms, this year. Therefore, systems such as the current Nortel phone system could qualify for E-Rate grants.
"The current Nortel system has been in place since 2000," explained Kriewall. He said the system's software is no longer supported and is at capacity, meaning no further phone lines can be added to the system.
Kriewall went on to tell the school board members that the system the district is looking at installing is the Cisco VoIP system.
There are many benefits to the voice over internet protocol, such as the ability to integrate the system district-wide and provide an E-911 feature. The system can also alert parents regarding student absences and coming events.
Kriewall also noted the system's ability to broadcast emergency alerts throughout the district.
He said though the system seems expensive at the outset, with a price tag of more than $111,000, it is reasonably less expensive than waiting another four to five years for grant funding to again be available for the district. And, the current discount with E-Rate grants is at 87 percent.
The school district is also in need of upgrading its wireless capabilities, according to Howard.
He said the current system is at maximum capacity, yet the district continues to grow.
The new system would provide more access points, provide the ability to track the location of laptops within the district and allow for a better balanced load on each of the access points.
In addition, Howard noted the new system would allow centralized management and greater security.
"Laptops are becoming more of a necessity within the district," said Howard, noting that technological advances in wireless capability allow educators the ability to become more mobile.
Ednetics, Inc. bid on the upgrades, placing the cost to the district at nearly $52,000 after the E-Rate grants.
The third technology upgrade Howard and Kriewall proposed to the school board was that of the district's servers and back-up batteries for the servers.
Ednetics, Inc. beat out Embarq on the bid because Embarq was unable to meet criteria in several areas of the requirements.
All the technology upgrades to the Grandview School District would be provided through Ednetics at a cost of just more than $224,000 after E-Rate grant funding, according to Howard.
Brad Shreeve, the school district's financial director, told school board members that the costs to the district are reasonable, and, "We just don't know what technology will be like when the district is eligible for E-Rate funding again."
After hearing all the information provided to them, the school board members unanimously approved all bids provided by Ednetics, Inc.