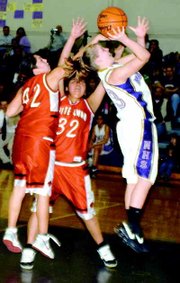 MABTON - In this case, the second time was the charm for the Mabton High School girls basketball team.
Last night, the Lady Vikings avenged an early season loss to the White Swan Cougars, claiming a 65-55 victory in the friendly confines of the Mabton gym. Tuesday evening's SCAC West win improves the Mabton girls to 3-4 in conference play, 8-5 overall on the season.
The key to stopping the Cougars, said Mabton Coach Mike Roettger, was keeping Shelby Strom from penetrating the lane. Early on last night, Mabton was unable to contain Strom, arguably the best ball-handler in the SCAC West Conference this year.
"She scored 13 of her 23 points in the first quarter," said Roettger.
Seeing the handwriting on the wall, the Lady Vikes made some quick adjustments and held Strom to just 10 points through the final three periods.
"The idea was to keep the ball out of Strom's hands," said Roettger. "We worked on trapping her, forcing her to pass the ball as soon as she touched it.
"White Swan was running 2-1-2 sets so she could penetrate. We tried to take that away from them," he said.
The defensive adjustment by Mabton complemented the Lady Vikings' efforts on the offensive side of the ball. Riding the hot shooting touch of junior Ana Jimenez, who pumped in a season-best 30 points while going 17-for-19 from the free throw line, the Lady Vikes stormed back from a one-point halftime deficit to outscore the visiting Cougars by a 39-28 margin after intermission.
Also scoring for Mabton were Trishi Williams, who canned 12 points, and the duo of Kayla Campbell and Theresa Flores, who combined for 11 points. Lady Viking teammates Crysta Reynolds and Monica Tellez chipped in four points apiece.
Mabton has just one game scheduled for this coming weekend, Friday night at Goldendale.