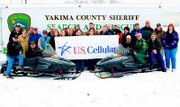 YAKIMA - This past Tuesday, Jan. 15, the Yakima County Sheriff's Search and Rescue received a donation of two snowmobiles from U.S. Cellular.
The snowmobiles were refurbished after being utilized for the purpose of assisting U.S. Cellular network engineers reach cell towers, and they will now be used for the purpose of search and rescue of lost or snowbound outdoor enthusiasts.
Sergeant John Durand of the Yakima County Sheriff's Search and Rescue said, "We are extremely happy to have a strong community partner, such as U.S. Cellular, help us fulfill our mission to provide quality search and rescue services and community and outdoor education."
He said he felt the cellular company proves it is committed to public safety through its many contributions to its customers and the communities U.S. Cellular serves.
The cellular company has, in addition to providing the two snowmobiles, strengthened its services to provide stronger cellular coverage. Durand said the cellular coverage is important in helping search and rescue locate individuals in need of assistance.