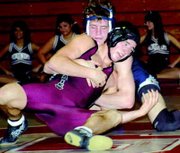 GRANDVIEW - The Grandview High School wrestling team hosted the undefeated Ellensburg Bulldogs last night, falling 56-15 to the visitors.
Grandview's record dropped to 3-4 in the CWAC South division with the defeat.
"Ellensburg is a very experienced team and had 15 returning District tournament placers from last year's team," Grandview Coach Jeff Sevigny said of the loss.
The Bulldogs earned a total of 10 wins, including three forfeits, out of the 14 weight divisions.
Four of the Grandview grapplers, however did earn victories in their bouts against their Ellensburg counterparts.
Earning a 6-4 decision was Grandview's Dalton Walker (145). He controlled Ellensburg's Chase Haberman throughout the dual.
Sevigny said, "He continued to wrestle well...for a win that was really not as close as the final score (indicates)."
In the 160-lb. weight division, Greyhound Greg Gonzalez wrestled a close bout against Ben Simpson of Ellensburg for the first period. Gonzalez "broke it open" in the second period and earned the victory by pin in 5:40.
Freshman Sergio Tinta (103) of Grandview won an exciting match by scoring a takedown in sudden death overtime to win a 6-4 decision over Briley Say.
The Greyhounds' final victory came at the hands of Garrett Walker (130). Walker defeated Ellensburg's Colby Coates by a 9-2 decision.
Falling by pin were Grandview's Jose "JoJo" Garza (171), Keagan Christensen (189), Michael Hendrickson (215), Eddie Acosta (285) and Omar Verduzco (112).
Greyhound Eric Dimas (125) was defeated by technical fall to Ellensburg's Kenny Sanders.
Grandview returns to the mat at the Foss Invite in Tacoma tomorrow (Saturday).
Jennie McGhan/Daily Sun News
Grandview Greyhound Greg Gonzalez (160) works toward a reversal against Ellensburg's Ben Simpson Thursday night.