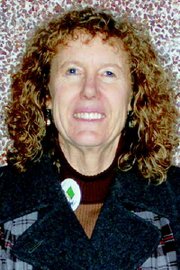 GRANDVIEW - A teacher that is often described as enthusiastic and who has a love for her job, Lorri Gilmur-Dillman will be retiring at the end of the 2007-08 school year.
Gilmur-Dillman began her teaching career with the Grandview School District at Central School under Principal John "Jack" Norling approximately 35 years ago.
She has worked with six different principals and hundreds of students in the span of her career.
"I believe in taking education to a fun level, helping kids reach their dreams and goals," Gilmur-Dillman stated.
Never one to stop learning herself, she is constantly seeking new learning techniques through workshops and additional training. She said teaching techniques have changed throughout the years, though she always believed in many of the concepts now being utilized.
"I have always liked to explore thought-provoking questions in the classroom," she said, explaining she enjoys seeing a student grasp different concepts and comprehend a variety of techniques to answering "What if?" She calls it, "The light bulb coming on factor."
One of the changes Gilmur-Dillman has always believed was necessary, and has taken place in recent years, was the idea of creating teamwork among educators.
"Teachers used to gather in the teacher's lounge and talk about the subjects and textbooks, but they didn't collaborate," she said, stating that educators are now doing so through professional learning communities.
She said the collaboration between herself and fellow Grandview Middle School eighth grade science teachers Chuck Adams and Doug Veach has brought a sense of camaraderie, along with the added benefit to students.
"We are able to pre-assess students to help their enrichment," Gilmur-Dillman stated. She further explained that she and her fellow teachers collaborate in determining areas where students may need strengthening or elaboration in their knowledge of a particular concept.
In addition to teaching science, Gillmur-Dillman has taught Spanish and math. She has been the Grandview Middle School eighth grade Achievement Via Individual Determination instructor since the program was implemented in 2006.
Her achievements have been widely respected by members of the Grandview School District and she has been recognized at a state level for the education she provides for her students.
"I have worked on devising WASL questions," Gillmur-Dillman explained.
"Lorri is a ball of energy. She gets more done in a morning than most of us do in a week," said Grandview School District Superintendent Kevin Chase, who said her passion for her students and providing a quality educational atmosphere is amazing.
He said her talent will be missed by her peers throughout the region.
As a cancer survivor, Gilmur-Dillman said she believes in making every moment in life count. She said she lost her brother and sister and feels "...life is precious."
As a result of her continuous drive to import change and value on the lives of others, she also chairs the Grandview Middle School Relay for Life team.
"She is one busy lady," said Rachel Ott, Grandview School District Superintendent Secretary.
After retiring, Gilmur-Dillman has plans to travel through the Panama Canal with a group of friends. She said she also will be working on writing a book and spending time with her parents...though she does not plan on leaving education altogether.
She stated, "I am looking at designing a part-time coaching position, training science and (Achievement Via Individual Determination) teachers...and I will continue to work part-time at Diet Center, helping others with nutrition."