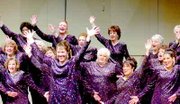 The Rolling Hills Chorus, the mid-Columbia's barbershop harmony chorus for women, is gearing up to present two concerts on Friday, Feb. 1, and Saturday, Feb. 2.
Friday night's "C'mon and Hear the Timeless Music of Irving Berlin" concert is slated to take place in Prosser at the Princess Theater at 7:30 p.m. On Saturday, Feb. 2, the women will perform at Chief Jo Auditorium in Richland, also at 7:30 p.m.
The two shows will feature special guests Mary Lou Gonza and Steve Haberman, as well as a local Sweet Adelines quartet, Columbia Connection, who will be singing memorable Berlin tunes such as "Blue Skies," "Putting on the Ritz" and "God Bless America."
General admission cost is $10 per person and can be purchased at the door on both nights, or at The Bookworm in Kennewick and Richland. Tickets are also available at the Daily Sun News in Sunnyside and Pizzeria Venti and the Sixth Street Gift Shop in Prosser. Children under 12 will be admitted free.
The Rolling Hills Chorus is comprised of 31 talented women who share a love of music and singing four-part barbershop harmony. The chorus holds weekly rehearsals on Thursday evenings at the Pasco Senior Center, which is located at 1315 North Seventh Street.
The chorus, directed by Lucy Heinkel, is an eight-time Small Chorus Regional Champion and has a 27-year history of musical excellence.
Further information about the chorus can be obtained at www.rollinghillschorus.org.