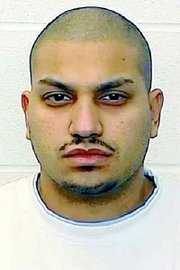 Sunnyside police have made two arrests in connection with the Jan. 10 shooting at Eastway shopping center that sent a 14-year-old Sunnyside boy to the hospital.
Officers who responded to the shooting found the victim shot in the torso with a .40 caliber pistol. The victim and another male had been walking across the parking lot when a man got out of a brown Dodge Dakota pickup and fired at the victim. The suspect then got back in the vehicle and left the area.
The victim was transported to Sunnyside Community Hospital, where he was treated and released a few days later. Police located .40 caliber casings and bullets at the scene.
Upon further investigation, Sunnyside police believe they have identified 22-year-old Jorge Saenz, of Sunnyside, as the shooter, and 19-year-old David Guillen, also of Sunnyside, as the driver of the truck.
Police have located the truck and have recovered a semi-automatic .40 caliber weapon, which police believe was used in the crime. The pistol will be sent to the Washington State Patrol crime lab to compare with the evidence recovered at the scene.
Saenz, who was questioned by police last weekend, was arrested this past Monday on charges of knowingly giving false information to the police. He is expected to be transferred to Yakima County Jail today (Friday).
Sunnyside police are requesting charges of first degree assault, a class A felony with a maximum punishment of life in prison and/or a $50,000 fine; unlawful possession of a firearm in the first degree, a class B felony with a maximum punishment of 10 years in prison and/or a $20,000 fine; and possession of a stolen firearm, which is also a class B felony.
Guillen was arrested this past Tuesday and was transported to Yakima County Jail yesterday (Thursday). Police are requesting he be charged with accomplice to assault in the first degree, a class A felony.
Police say this was a gang related incident. The suspected shooter, Saenz, and the victim are members of opposing gangs. No other arrests are expected.