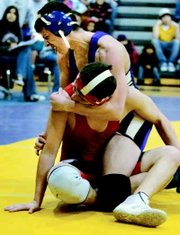 MABTON - In what was a disappointing showing at its home tournament, the Mabton High School wrestling team placed eighth out of 10 teams at last weekend's Mid Valley Classic.
Managing only 75 points, the Vikings saw four divisional rivals finish ahead of them. The tournament was won by Rearden High School, who blew everyone away with 213 points. Goldendale took a distant second with 135 points.
"I don't know what happened," Mabton Coach John Kilian said. "We beat most of these teams last week (at the Royal Rumble). Maybe it was the match-ups. The Lord giveth and the Lord taketh away."
Mabton's Andy Rivera, usually a solid wrestler, got put out and didn't place. Previously undefeated Eli Perez lost for the first time this year and Angelo Salinas had to settle for fourth place honors.
A bright spot for the Vikings was Eric Meza, who continued his winning ways and picked up his third straight tournament championship.
"He's enjoying these first place wins," Kilian said. "He's on a roll."
Meza (119 lbs.) made quick work of his first two opponents. He pinned Kyle Keeling of Rearden High School in 57 seconds, and then pinned Rearden High School's Justin Huskins in 47 seconds.
In the championship bout Meza pinned Naches Valley High School's Jessie Fredricksen in 1:30.
"He's peaking at the right time," Kilian said of Meza. "He has a few tough guys to face at Districts and Regionals. His goal is to be in the top three at State. He's been looking good, the pieces of the puzzle are coming together."
Perez (285 lbs.) had gone 25-0 this season until his rematch with Derek Toney on Saturday. Perez edged Toney 3-2 at the Royal Rumble last week.
Perez used two pins to get into the championship match. He pinned Victor Torres of the Sunnyside High School JV wrestling team in 1:16, then he beat Marshall Allenbaugh of Cle Elum by a pin in 5:47.
This set up the finals match with Toney. Both wrestlers fought to a 1-1 draw at the end of three rounds, with both wrestlers scoring an escape off the other one.
This set up a one-minute sudden-victory round but neither wrestler could score. They then went to two 30-second rounds, with each one of them having to start on the bottom. As expected, both wrestlers scored escapes and after the two mini-rounds, the score was tied at 2-2.
"Eli almost prevented Derek's escape," Kilian said. "He held on but Derek got it right before the round ended."
This set up a 30-second ultimate tie breaker and Toney scored a reversal in this round, followed by a three-point near fall to defeat Perez 7-2.
Two Mabton wrestlers scored fourth place wins for the Vikings, Arturo Nunez (135 lbs.) and Angelo Salinas (160 lbs.).
The Vikings get back to league action this Thursday, Jan. 24, when they travel to Granger to wrestle the Spartans at 7 p.m.