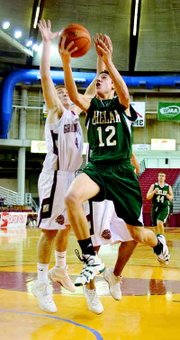 YAKIMA - Grandview High School's Rogie Fajardo believes people haven't seen the real him since the Grandview boys basketball season started last December.
"I've been waiting to come out of my shell all season," Fajardo said after the Greyhounds beat seventh ranked 1A Chelan at the Tourneytown.com Shootout in Yakima yesterday (Monday). "I told myself I wasn't going to think about it today, I was just going to shoot the ball."
That strategy paid off for the Greyhound as Fajardo amassed 30 points to lead Grandview over the Goats, 71-54.
These two teams have played each other a lot over the years, according to Grandview Coach Scott Parrish.
"We're pretty familiar with each other's program," he added.
Parrish said he was concerned with Chelan's Joe Harris so he assigned Fajardo the job of guarding him. Fajardo stepped up, limiting the Goats' leading scorer to just six points in the first half.
Grandview started the game playing a little sloppy. Thanks to Fajardo and C.J. Lopez, Grandview was able to keep up with Chelan and stay ahead of them in the first half.
Lopez drained eight points on 3-of-7 shooting from the floor, including two three-point shots. Fajardo did it all, hitting from behind the three-point arc, from the field and from the free throw line.
"I started feeling it so I kept on going," he explained. "If I was open, I was going to shoot that rock."
Thanks to their play, Grandview was able to take a 28-22 lead at halftime.
In the second half Chelan's Harris got back into the game and tried to lead the Goats on a rally.
Midway through the third period Chelan pulled to within two points, but Fajardo answered with three shots from behind the 3-point arc. The quick nine points padded Grandview's lead and the Greyhounds never looked back after that.
"Rogie was feeling it," Parrish said. "He really stepped up when the game got close."
Chelan won the battle of the boards, out rebounding Grandview 42 to 34 but the Greyhounds forced more turnovers then Chelan did, 21 to 11, and got 14 points off of them.
After Fajardo's 30 points, Lopez scored 17 for the Greyhounds and Joseph Babcock and Nick Sears each contributed six points.
Harris led the Goats with 20 points. He was followed by Brett Linehan with 10.
"I'm real happy with how we're playing right now," Parrish said. "Hopefully we can get a little better each day."
Grandview (5-5, 7-5) will continue league play this Friday, Jan. 25, when the Greyhounds host the Othello Huskies for a 7:30 p.m game. On Saturday, Jan. 26, Grandview will host East Valley at 7:30 p.m.