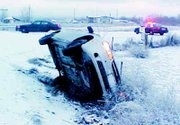 Two local residents suspected of stealing a car in Sunnyside this past Sunday morning avoided injury when the vehicle they were in slid off the roadway and overturned.
The rollover brought to an end a police chase that at times exceeded 50 miles per hour.
The two people pulled from the stolen vehicle have been identified as Steven K. Coder, 23, and Chavon H. Covel, 24. Sunnyside police said the pair reside at a home in the 1700 block of Cascade Way in Sunnyside. Local police are requesting that charges of theft of a motor vehicle and possession of a stolen motor vehicle be filed against the two. Covel also faces a charge of attempting to elude a law enforcement officer.
According to Police Sgt. Kent Coffman, a woman phoned in Sunday morning at about 7 a.m. to report that her 2002 Chevrolet Malibu had been stolen from her Reeves Way home. She told police the vehicle had been left warming up in front of her apartment.
Because there was a light snowfall on the ground that morning, Police Officer Johnny Gusby was able to locate a set of tire tracks at the Reeves Way home. He followed the tracks westbound to Outlook Road, "...where they then left the roadway onto a canal bank," said Coffman. Gusby continued to follow the tracks until he happened upon the stolen vehicle about two miles outside of Sunnyside.
Coffman said the driver of the stolen vehicle then attempted to elude Gusby, at times hitting speeds of over 50 miles per hour along the snow-covered canal bank.
Awaiting Sunnyside police officers were met by the stolen vehicle when it reached the intersection of Lester and Snipes Canal roads. Coffman said the suspects failed to negotiate a 90-degree right turn, and the stolen vehicle slid off the roadway and down an incline into a fence, causing the car to roll onto the driver's side.
The two occupants of the vehicle were unable to exit the car until a tow truck righted the vehicle onto its wheels.
Coffman said neither of the suspects were injured in the rollover, although the stolen vehicle did sustain approximately $2,000 worth of damage.
&nbsp