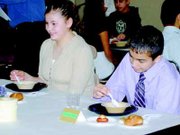 After spending a significant amount of time studying etiquette, Sierra Vista leadership class students put their skills to the test this past Friday, thanks to a collaboration between teacher Steven Urrutia, his family and school kitchen staff.
The students gathered in the home economics room and were served a full course meal by food service staff, just as if they were in a fancy restaurant. Their goal was to put all the skills learned to the test.
Urrutia said he came up with the idea of teaching etiquette when he realized the students didn't have much experience. "It's a lost art. As I was telling the students about holding the door open for people at the bank and post office, I thought, 'Wow. Some of these kids really (don't understand)'," he said. "Hopefully this is something they can use forever."
Urrutia's mother and daughter, Frances and Kerri, helped by decorating the tables. Kerri Urrutia also helped look up etiquette answers when the students had questions.
When they first sat down, the boys were in charge of pulling the chairs back for each female student.
As the first course came in the form of soup, students were reminded not to begin eating until everyone had been served and the table's host began eating. Another etiquette rule of thumb came up during the soup course: it's OK to tip the bowl away from you to scoop up more soup, but this can only be done twice.
As the meal played out, each student exercised what they learned about etiquette, with Urrutia frequently asking questions about what to do in certain situations. The appetizers were in question, with many wondering if it's OK to eat them with their fingers. Urrutia said yes, but when in doubt, use utensils.
This was the first time Urrutia has taught etiquette to his leadership class and he said he was amazed at the support of school staff. "I was flabbergasted at how quick people were to help out," he said, noting that each table's hostess was an adult school staff member.
It was the last day of the semester, and Urrutia felt like it was a fun send-off for the kids. And, he added, "Good manners never go out of style."