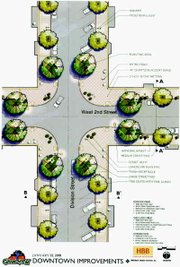 GRANDVIEW - Wide sidewalks, leafy trees and plants, park benches and bistro tables are part of a vision the city of Grandview is considering for its core downtown area.
The $3.2 million vision for an area that includes Division Street from Wine Country Road to Fourth Street, and Second Street from A Avenue to Ash Avenue was on display last night during a Grandview City Council study session.
Last night was council's chance to review the design, which suggests a roundabout at the intersection of Fourth and Division Streets.
Also envisioned are bulb outs at Second and Division, in which curbs at the intersection are rounded out to accommodate increased pedestrian traffic and shopping.
Jeff Louman of the engineering firm Huibregtse, Louman and Associates said it may seem to some that the price tag may be out of reach. He then reminded council of the improvements to downtown Yakima which received federal help.
Mayor Norm Childress echoed that sentiment later in the regular council meeting, noting the importance of face-to-face meetings with legislators not only in Olympia, but in the nation's capitol.
Childress said there is a possibility the city may seek funds from the county's Supporting Investment in Economic Development fund.
The city has in the past considered revitalizing the downtown core, but after getting plans drawn up and meeting with neighborhood leaders, council is ready to present the idea to the public.
A public meeting to gain input on the design is set for Tuesday, Feb. 12, at 6:30 p.m. at the senior center.