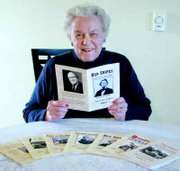 New works by famed author and local historian Roscoe Sheller are now available for purchase.
According to Sheller's daughter, Dorothy (Sheller) Churchill, the short stories were found while she was looking through boxes.
"Discovery of these stories was made while sorting through a box of unpublished manuscripts," she said. "On looking through the manuscripts, we realized there were many interesting stories about Sunnyside. But publishing an entire book would have been prohibitively expensive, so we decided to print (some) up as booklets."
The booklets are called the Sheller Stories, an eight-volume collection rich with local lore.
Churchill said that for years, her father was known as "Mr. Sunnyside" because of his devotion to the town. "Roscoe Sheller arrived in Sunnyside in 1898 at age 9 to join the seven other families forming a new town in the untamed West," said Dorothy. "He lived his entire life in Sunnyside and died in 1969 at age 80.
During his 71 years in Sunnyside, Sheller literally watched the Valley transform. "Walter N. Granger, Granddaddy of Western Irrigation" tells the tale of the man responsible for building the Sunnyside canal. It also includes a snippet of how the town of Zillah was named.
"Butter to Barter" is Sheller's first person account of his mother learning how to make butter, than trading it for goods at Sunnyside's only store, owned by a Mr. Cline.
"Bandit to Lawman" is a story about redemption. In relatively few pages, the reader walks with a man who goes from absolutely greedy to dedicating his life to helping others.
Sheller owned a Ford dealership here in town, but ill health dictated his early retirement, said his daughter.
"He rebounded as a writer. (The) writing started in 1952 with "Courage and Water," a history of Sunnyside," she said, adding that he went on to publish five more books. "He wrote all six books with two fingers," she said.
Dorothy later found an unpublished book titled "Irrigation of the Valleys of the Yakima" and what she calls a "fat notebook of unpublished Sheller stories."
Dorothy, heir to the copyrights, recruited her son Sam Churchill to publish their favorite short stories in the eight-volume set.
To purchase the Sheller Stories, call Sunnyside Museum activist John Saras at 837-2105. The eight-volume set of booklets cost $25 per set.