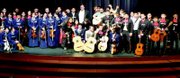 Three high school Mariachi bands came together last Saturday in Sunnyside to learn, play and get to know each other.
The first ever Sunnyside High School Mariachi Festival was held last weekend and featured bands from Wenatchee High School, Grandview High School and Sunnyside High School.
Sunnyside Mariachi Band Director Yoko Kan said invitations were extended to Granger High School and Toppenish High School but circumstances prevented these schools from attending.
Kan is hoping Granger and Toppenish will be available for next year's festival and envisions adding more schools, like Davis High School and Walla Walla High School.
Kan said the idea evolved when the Sunnyside band participated in a Mariachi festival in Wenatchee. Kan and the Mariachi director from Wenatchee High School have been discussing their programs for some time and it all came together last weekend.
"It worked out and we did it," Kan said.
She said the Mariachi festival was a great opportunity for her students and those of the other schools to get together and jam.
"These kids (Sunnyside High School Mariachi band members) are so into Mariachi," Kan explained. "It's good to have them around other students that are into Mariachi as well."
The festival served as a Mariachi workshop, too. The three bands split into groups separated by what instrument each band member played. Each group had an instructor with them and they learned pieces of three new songs together.
"The kids learned a lot of new things," Kan said.
She said besides the new songs, her students learned a new style of Mariachi, called Cumbia.
"It's something we haven't done before," she explained. "It's a different rhythm."
The musicians also learned some fundamentals of playing in a Mariachi band. Kan said the students were given a lot of one-on-one time.
At the end, the three school bands got together and performed the three new songs they had just learned. The results were what the three school directors expected.
"I thought it was awesome," Kan added.
She is already thinking ahead to next year and is hoping to be able to attend more Mariachi festivals before the end of the year.